Srinivasa Ramanujan (22 December 1887 – 26 April 1920)
, born into a poor brahmin family in a small town in South India , was a mathematical genius who showed his talent at a very young age. He made extraordinary contributions to number theory , infnite series and continued fractions. He had no formal training in pure mathematics, but continued to do his own research in isolation and produced works which were far ahead of his times. He has been compared to a bursting supernova, illuminating the darkest, most profound corners of mathematics, before being tragically struck down by tuberculosis at the age of 33.
Though he could not complete his education in India (as he did not pass the tests in non-mathematical subjects) , h
e was awarded with a B.A. degree by research (which is now known as PhD) in March 1916 by the Trinity College, Cambridge for his work on highly composite numbers. His paper was published in the Proceedings of the London Mathematical Society in 1918. He was the first Indian to earn the Fellowship at Trinity College, Cambridge.
G.H . Hardy recognized Ramanujan's untutored brilliance and they became collaborator in their mathematical journey .... and Hardy said that "discovering Ramanujan was his greatest mathematical contribution" . He even called their collaboration "the one romantic incident in my life." G.H Hardy had his own personal ratings of mathematician's based on his assessment of the mathematician's pure talent on a scale from 0 to 100. On this scale Hardy gave himself a score of 25, Littlewood 30, Hilbert 80 and Ramanujan 100 !.
The video below gives a brief glimpse about Ramanujan's life and narrates how G.H.Hardy and Ramanujan met ....and as we all know ...the rest is history !
During an illness in England, G.H. Hardy visited Ramanujan in the hospital. Hardy remarked that he had taken a taxi whose license number was 1729, which he considered as "a singularly unexceptional number" .... but Ramanujan immediately responded that this number was actually quite remarkable as it is the smallest integer that can be represented in two ways by the sum of two cubes ..i.e . 1729=1
3
+12
3
=9
3
+10
3
. When Littlewood heard this incident he is said to have remarked that " every positive integer was one of Ramanujan's personal friends".This number..1729... is now called the "Ramanujam number" , " Hardy-Ramanujan number ". It is also refered to as
" Taxi number "
Incidently equations such as c=a
3
+b
3
are called "Third powers Diophantine Equations", named after Diophantus (~ 250 AD)
Magic squares fascinated Ramanujan . Here is one magic square created in which his date of birth is embedded.!
A postage stamp was released in 1962 to commemorate Ramanujan's 75th birthday. Another commemorative postage stamp was released last year on 26th December 2011 .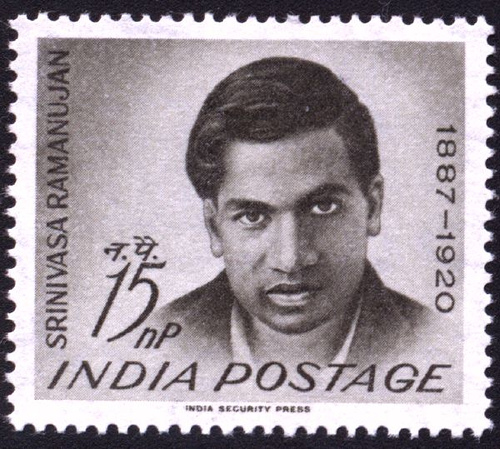 In December 2011, in recognition of his contribution to mathematics, the Government of India declared that Ramanujan's birthday (22 December) should be celebrated every year as the "National Mathematics Day" and also declared 2012 as the " National Mathematical year"
Note: Some of the pictures above are taken from the internet and used only for education and inspiration . If I have violated any copyright issues , please send me comments and I will remove the associated pictures.
Further reading:
1. "Ramanujan Letters & Reminiscences" , Memorial Number Volume-1. Edited by P.K. Srinivasan
2. "Ramanujan An Inspiration " , Memorial Number Volume-2. Edited by P.K. Srinivasan
3. "The Man Who Knew Infinity: A Life of the Genius Ramanujan
"
by Robert Kanigel
4.
http://euler.free.fr/taxicab.htm
5.
http://en.wikipedia.org/wiki/Taxicab_number
6.
http://www.durangobill.com/Ramanujan.html
7.
http://www-history.mcs.st-and.ac.uk/Biographies/Ramanujan.html
8.
http://www.deccanchronicle.com/121222/news-current-affairs/article/mathematicians-pay-tribute-srinivasa-ramanujan-his-125th-birth